As the leaves turn to gold and the air gets a little crisper, it's time to switch up your wardrobe for fall. Beyond layers and cozy fabrics, don't underestimate the impact of accessories. This season, the standout piece in men's fashion is undoubtedly the nugget ring. Let's dive into how you can seamlessly incorporate this timeless accessory into your fall outfits with style and finesse.
Stack It Up: Creating a Statement
Jazzing up your jewelry isn't just for the ladies. For gents, stacking a nugget ring with other pieces can create a striking, personalized look. Whether you mix metals or play with different textures, it's all about making a statement that's uniquely yours.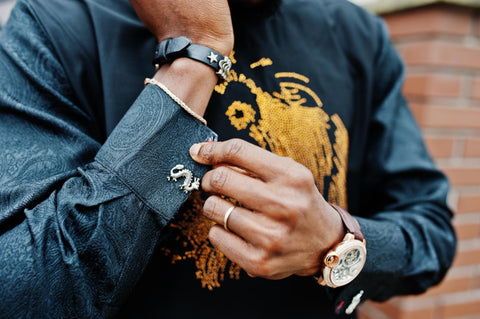 Coordinate with Confidence: Watch and Ring Pairing
Matching your nugget ring with your wristwatch might seem subtle, but it's a move that exudes confidence and an eye for detail. When the metals align, you've got a look that's polished and on point.
Embrace Earth Tones: Harmonizing with Fall Colors
Autumn fashion revels in earthy shades - deep greens, warm browns, and rich reds. Choosing a nugget ring with similar warm, autumnal hues allows for a seamless integration with your seasonal wardrobe.
Casual Comfort: Effortless Daytime Styling
For a relaxed, yet refined look, consider pairing your nugget ring with a chunky knit sweater and your favorite pair of jeans. This combination radiates a cozy, autumnal vibe that's perfect for laid-back days out.
Formal Flair: Elevate Your Evening Wear
Don't let your nugget ring only see daylight during casual outings. Opt for a sleek design in a precious metal like gold or platinum to add a touch of sophistication to your formal attire. Sometimes, it's the subtle additions that make the biggest impact.
Texture Play: Combining Rugged and Refined
Playing with textures is a wonderful way to express your style. Try pairing a rugged leather jacket with your nugget ring. This mix of tough and refined elements creates an edgy yet stylish look, perfect for the season.
Fall Accessories Harmony: Coordinating the Ensemble
Create a harmonious ensemble by coordinating your nugget ring with other fall-inspired accessories. Think leather bracelets or a well-worn belt – these small touches tie your look together, resulting in a polished appearance.
Seasonal Symbols: Adding a Touch of Autumn
Consider a nugget ring with designs or engravings inspired by fall. Leaves, acorns, or other nature motifs not only add a thematic touch to your ensemble but also capture the essence of autumn.
Balance Proportions: Let the Ring Shine
If you're donning a larger nugget ring, balance it out with simpler, more understated clothing pieces. This ensures that the ring remains the focal point of your outfit, allowing its unique character to truly shine.
Casual Elegance: The Classic Combination
Pair a rugged denim jacket with a crisp white tee, your favorite jeans, and of course, your cherished nugget ring. This timeless blend of casual and refined elements is perfect for any occasion.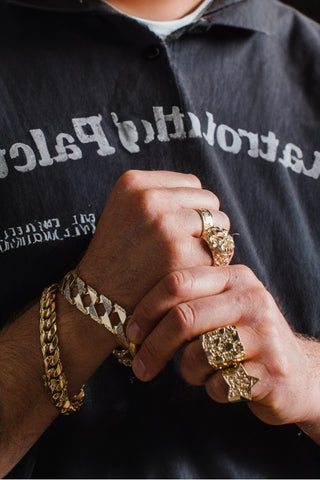 Remember, confidence is the ultimate accessory. Wear your nugget ring with pride, and let it be an extension of your unique style this fall.
With these styling tips, you're ready to embrace the season with a touch of elegance and a dash of individuality. Discover the perfect nugget ring for your fall wardrobe and elevate your style to new heights.